Teeth whitening
Teeth whitening lightens the color of your teeth and gives a confident shine to your smile. The technique uses a bleaching agent which passes through the enamel into the dentin. The agent is an oxygen ion which acts on the atomic bonds of the molecular structure of the dentin and makes the tooth whiter.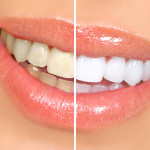 The effectiveness of the method lies in the fact that dentin gives its yellowish color to the tooth when the enamel becomes too thin. For more information on our other dental care click on this link.
Your advantages
 Tooth whitening to EUR 299
 Philipps Zoom Whitening
 A one-hour treatment
A Cutting Edge Method
The teeth whitening method we use is called the Zoom whitening, wherein the light is produced by a Philips Zoom lamp, which lends its name to the method. The penetration of the hydrogen peroxide is accelerated by the light generated by the lamp.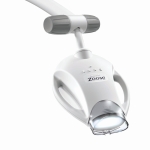 This whitening method is able to produce great results within about 1 hour. The method protects enamel in comparison to other standard whitening techniques.
Whitening Discount
Depending on the scope of other adjunct treatments, you may obtain a discount from your tooth whitening in Budapest.
Prices of Our Teeth Whitening
For more detailed information about prices of dental care in Hungary or for a free quote, please contact us by phone at +41.22.575.44.59, by Email at info@swissmedflight.com or by filling our Contact Form.