Dental Treatment in 4 Steps
1. Get your free quote
2. Travel and accommodation at great rates
3. Treatments in advanced clinics
4. Guarantees on our services
1. Transfer of Medical Records and Free Quote
During our first contact, we will collect your previous X-rays in order to establish a first estimate on the entire treatment. If you do not have X-rays, you have the option to obtain some through your local dentist or come to our dental clinic in Budapest for a free quote.
2. Validation of Quote and Organization of The Trip
We will send you a quote and will fix an appointment at your convenience. Then you will book your flights, which will be the first step in your dental tourism trip. We will require that you send us the flights details in order for us to organise a driver for your free airport pick-up. In rare cases, several trips are required; we will mention it on the estimate. Appointments can be made in a very short time, if necessary (customers are able to travel in the week following their first contact).
Concerning your dental tourism trip, you can find flights at very advantageous prices on sites like Skyscanner and Kayak.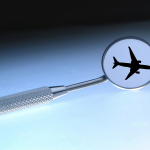 Regarding the accommodation, we organize booking with our partner hotels and residences at no additional cost. The residences for your medical stay in Hungary are close to the clinic in Budapest and at very competitive prices.
3. Treatment
Your dental tourisme journey starts with a free on-site consultation which will take place before the procedure in order to confirm the scope of the treatment. If necessary, an interpreter will be available for the treatment. The payment is made on-site after the procedure. Cash, card or bank transfers are accepted.
4. Warranty
Within our dental tourism services, all treatments are guaranteed. The scope and duration of the guarantee depends on the treatment. You will find guarantees on the treatments' specific pages. All dental implants in Budapest are guarantee for a lifetime. Our composites, resins and ceramic are guaranteed one year. Our veneers and dental crowns have a 3 year warranty.