Introduction
Our dental clinic in Budapest is located in the city center, at Madách Imre tér 7, on the 1st floor, in the 7th district of the Hungarian capital and a few steps from the central square and metro station Deák Ferenc. In addition, two minutes walk is enough to access from your apartment.
Our Goal
Our main goal is the satisfaction of our patients and the care of your oral health in a modern and welcoming environment. As a result, all of our dental care is under one roof and by practitioners with a high level of competence and training, recognized in the United Kingdom, Ireland or Scotland.
An International Clinic
Since the opening in 2000, we take care of English speaking patients from UK, Ireland and Scotland. From its creation, it has successfully treated more than 75,000 Hungarian and international patients. Finally, we speak several languages in our dental practice: French, English, German, Italian, Spanish and Hungarian.
Facilities
Our dental clinic in Budapest consists of 8 dental rooms and has the latest medical imaging technology and dental tools.
A Spacious and Renovated Waiting Room
To begin, we welcome our patients to a spacious, comfortable and modern waiting room. It has wifi, air conditioning and flat screens. Recently renovated, a child area is also available.
Dental Office Equipment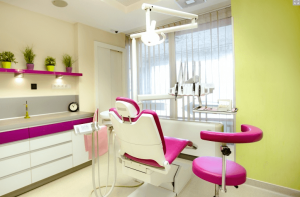 In terms of dental office equipment, the dental chairs for our patients as well as the dental units are equipped with the KaVo Dental brand. Made in Germany, this equipment is reliable, functional and of proven quality. High quality and durable components are essential for the comfort of our patients.
Medical Imaging
Our dental clinic in Budapest has the latest medical imaging technology. To establish an accurate diagnosis in addition to clinical examinations, we use two-dimensional (2D) and three-dimensional (3D) medical imaging technologies.
2D imaging allows for panoramic X-rays and intra-oral imaging systems.
For complementary exams, we use 3D imaging. This is done using CBCT (Cone Beam Computed Tomography) technology. It allows to carry out a voluminal tomography in 3 dimensions. This type of image is essential in implantology and orthodontics.
Arcus Digma Measurgin System
To continue the technologies used in our dental clinic in Budapest, we have Arcus Digma temporomandibular joint (TMJ) measuring devices. This electronic measurement system makes it possible to establish precise diagnostics for the treatment of TMJ disorders. This technology will also accurately measure occlusion of the jaws for the fabrication of dental prostheses.
Dental Implant Systems
Our dental clinic in Budapest uses dental implant systems of quality brands such as Nobel Biocare (Switzerland) or Alpha Bio Tec.
Dental Laboratory
Dental prostheses (crowns, veneers, bridges) are performed in one of the best dental laboratories in the city. It benefits from the latest technologies in the execution of prosthetic work, such as CAD-CAM (Computer Assisted Design) scanners.
How to Get to Our Dental Clinic in Budapest?
Our private driver looks for you at the airport and drops you off at the clinic. From our apartments, access is 2 minutes walk down Kiraly Street. Finally, from another address, you can either come by taxi or take the metro and get off at the metro station Deák Ferenc, then walk 1 minute.
Clinic Address
Madenta
Madách Imre tér 7 – 1er étage
Budapest
1075 Hungary
Access Map