Introduction
We offer high quality dental care in Hungary at affordable prices. Each year, we treat successfully thousands of patients from the United Kingdom, Ireland and Scotland. Indeed, we offer you free support from the very beginning of your treatment until the end of your dental care abroad.
Organization of your dental care in Hungary
Our service offer is not limited to your dental care in Hungary. Thus, our offer also includes the entire organization of your stay:
establishment of a free quote in Switzerland
assistance when booking your plane tickets
transfers with private driver between the airport and the clinic
booking an apartment near the clinic
personal assistance throughout your treatment
In summary, with us you benefit from a top-of-the-range all-inclusive offer for your dental care in Hungary!
A modern dental clinic in the hearth of Budapest
Our dental clinic is located in the city center, a few steps from Deák Ferenc Square. Thus, it is easily accessible on foot from your home. Since 2000, it has been welcoming english speaking patient from abroad: United Kingdom, Ireland and Scotland.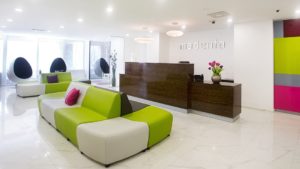 In addition, the dental clinic is ultra modern. Indeed, it has the latest technologies and medical instruments. For example, Arcus Digma ultrasonic device or Zeiss Surgical Microscopes. Constantly evolving, it was renovated and enlarged in 2013.
Dental care treatments in Hungary
We offer a full range of dental care treatments in Hungary.
Dental Implant
A dental implant is a metal screw placed in the jawbone and used to replace the natural root of a tooth. The implant may be of zirconia or titanium, of different shape and diameter. The implantologist will place the implant in the alveolar bone in order to replace a missing or unrepairable tooth.
Dental Crown
A dental crown is an artificial tooth (dental prosthesis) used to replace all or part of a tooth. If the root can be preserved, the crown will be placed on a dental hub. If not, it will be placed on a prosthetic pillar (abutment). The abutment serves as a connector between the implant and the tooth.
Dental Bridges
A dental bridge is an assembly of dental crowns used to replace one or more missing teeth. A dental bridge consists of at least 3 teeth, including 2 abutment teeth and one or more teeth connecting the others. Finally, the abutment teeth can be placed on natural teeth or implants.
Veneers
Dental veneers, is a ceramic shell glued to the outer surface of the tooth. It has an aesthetic purpose to obtain perfectly white and aligned teeth. Finally, facets are custom-made by a dental technician and offer a natural and long-lasting result.
Teeth Whitening
Teeth whitening is a treatment for brightening teeth. This can be done at the dentist's or at home with a custom-made transparent aligner in which a whitening gel will be applied.
Composite Fillings
Dental fillings in composite or white fillings, make it possible to restore a teeth. Various materials can be used in the process, including composite resin.
Dental Costs in Hungary
The dental costs in Hungary are competitive and affordable. For example, we offer Alpha Bio implants for 437 GBP or dental crowns from 184 GBP. This way you can save up to 80% on dental costs in the United Kingdom, Ireland or Scotland.
Dental Care in Hungary in 4 Steps
Your dental care in Hungary in 4 steps.
First, send us a recent panoramic x-ray (less than 6 months) by e-mail. If you do not have one, we will send you the contact details of a medical imaging center near you to make one. We will establish your treatment plan based on this x-ray that we will send to you by e-mail.
Then, once the treatment plan is accepted, choose a date and book your plane tickets. We take care to book for you a fully equipped apartment near the clinic.
Finally, do your dental care in Hungary in our state-of-the-art clinic and receive a written guarantee on all your treatment.
11 reasons to choose us for your dental care in Budapest
Free quote remotely based on vote of dental radiography
First free consultation in Budapest
A multidisciplinary dental team
Premium brands and materials (Switzerland, Germany, United States)
 Modern and well located clinic in the hearth of Budapest
Save up to 80% on the cost of your dental care
 Written guarantee on your treatments
 Personal assistance throughout your treatment
 Comfortable accommodation offer near the dental clinic
 No waiting list
 Free airport transfert
1. Free quote online
In order to establish your quotation, send us by e-mail a recent panoramic radiography (less than 6 months). We will send you back our detailed treatment plan. This includes: the steps of your treatment, the cost, the materials used, the length of your stay and the price of dental laboratory work.
In case you do not have a recent X-ray, just contact us. We will let you know which radiology center is closest to you.
Finally, if you wish you can do your dental assessment directly in Budapest. Just take an appointment. The consultation and the X-ray are free.
2. A free consultation
As mentioned above, the first consultation is free. This includes consultation with the dentist, a panoramic X-ray and a detailed treatment plan. For more information about our dental care in Hungary, do not hesitate to contact us.
3. A multidisciplinary dental team
Our team of dentists in Budapest excels in all disciplines of dentistry. For example, if you ask us for dental implants or veneers, you will find a specialist who can best meet your needs.
4. Premium brands and materials
Our dentists in Budapest use premium brands and materials. These are the same as those used by your local dentist. For example, for dental implants (screws) and implant abutments, we use the Nobel Biocare (Switzerland) or Alpha-Bio Tec brands. Our zirconia dental crowns are from KaVo (Germany). Finally, our porcelains and ceramics brand Ivoclar (Lichtenstein) or Kuraray Noritake (Japan).
5. A high-end dental office
Our dental office in Budapest is located in the city center. A 1 minute walk from Deak Ferenc Ter Metro Station. It links the subway lines of the Hungarian capital. Regarding the equipment, our clinic contains 8 modern-day operating rooms. Our dentures are made by one of the best laboratories in the city. He delivers high quality prosthetic work as soon as possible.
6. Save money on dental care
Costs for dental care in Hungary are up to 5 times cheaper than in the UK, Ireland or Scotland. Thus, thousands foreigners come every year to Hungary to heal their teeth. You will find more information on this subject by consulting our dental price list.
7. Written guarantee on all our treatments
All of our dental treatments are guaranteed. These guarantees and their scope will be mentioned in your treatment plan.
8. An english speaking dental practice in Budapest
We offer our patients from English speaking assistance throughout their stay. We also speak French or German. On arrival at the dental office, an English speaking assistant will guide you throughout your stay.
9. Two minutes walk from the clinic
Regarding your stay, we can reserve at your request a fully equipped apartment and located 2 minutes walk from the clinic. We offer spacious studios and apartments. You will find more information on this subject by visiting our accommodation page in Budapest.
10. No waiting list policy
Upon acceptance of your quote, we can reserve a date for your first appointment based on your availability. Indeed, our dental team is sufficiently flexible and broad. In addition, we do not apply a waiting list policy. You will obtain, a first consultation in the shortest possible time.
11. Free airport transfers – Budapest
Transfers between the airport and Budapest are free. We look for you upon your arrival at Budapest Airport and we drop you off at your hotel. Finally for your return, we look for you at your hotel and drop you off at the airport. It takes 45 minutes to transfer.