Chin Sugery (Genioplasty)
Initially, chin surgeries (genioplasty) were performed for the correction of birth defects and trauma related to accidents. Today, genioplasty is widely used in cosmetic surgery to improve the shape of the chin and to harmonize the facial symmetry. Genioplasty is a light cosmetic surgery yielding impressive results.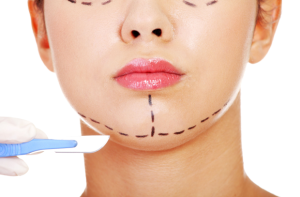 Your genioplasty in Budapest: our plastic surgeons are renown on the international scene. They are certified specialists in Aesthetic Surgery by the Hungarian Society of Plastic and Reconstructive Surgery (MPHEST) and members of the Hungarian Medical Chamber (MOK).
The chin surgery or genioplasty can lengthen or shrink the chin in order to give the face a harmonious shape. For an increase of the chin's size, the material used are synthetic implants, adipose tissue, or polyacrylamide gel (having a half life of more than 5 years), depending on the situation.
Your Advantages

Private clinics accredited internationally
English assistance throughout your stay
Over 80% savings on UK prices
High-end brands and materials
Easy access from the UK
Internationally renowned plastic surgeon
Chin Surgery Procedure
Anesthesia
Genioplasty is a relatively light plastic surgery and is done under local anesthesia.
Duration of Operation
The operation of the chin is simple and takes about an hour.
Hospitalization
Depending on the type of surgery performed, a brief hospitalization may be necessary for your chin surgery in Budapest.
Recovery Time after a Genioplasty
The patient is presentable after one week. Chin surgery is performed at once and requires a medical journey of two-three days.
Main Risks Associated with Chin Surgery
When genioplasty is performed by a skilled plastic surgeon, complications are rare and usually benign. You will reduce these risks by closely following your surgeon's recommendations. Specific risks and precautions differ from one individual to another and will be determined at the time of consultation. Any surgery involves a certain degree of risk. Sometimes minor complications may occur, but major complications are rare.
Recommendations after Your Genioplasty in Budapest
After the anesthetic effect disappears, it is possible to feel mild pain. To avoid any discomfort, our doctor will prescribe you pain killers. In case of severe pain, immediately consult your surgeon. You are advised to keep your head elevated for two days and use cold compresses to reduce swelling and bruising. During the first three weeks after surgery, it is recommended to avoid intense physical activity. It is also advised not to consume alcohol after surgery. You can return to your normal daily activities one week after the genioplasty.
I went to make my chin surgery in Hungary. Everything went as planned; the stay was very enjoyable and the success of my genioplasty is total. Its price was also twice less than the price of a chin operation in France, trip and accommodation included.
The Hungarian plastic surgeon did a really great job. My face is much more harmonious after my chin surgery in Budapest. In addition, Hungarian prices for genioplasty are three times cheaper than Swiss prices.