What is Breast Augmentation?
Breast augmentation or mammaplasty augmentation, sometimes referred to as a "boob job" or "breast aug", is a breast surgery operation whose purpose is to increase the size of the breast, to correct an asymmetry or to find an ideal breast size, for example after a period of pregnancy, a loss of weight or as a reconstructive surgery after breast cancer.
Mammaplasty Augmentation with Breast Implant
Breast augmentation by using breast implant is performed by inserting a breast implant. It is a silicone casing filled with gel or saline solution having a specific shape. The breast prosthesis is chosen according to the morphology of the patient.
Breast Augmentation by Macrolane®
A breast augmentation by Macrolane, a hyaluronic acid of big molecule, is a procedure of aesthetic medicine. It has the advantage of being less invasive than the insertion of a breast implant and does not leave a scar. Plus the recovery is very fast. However, this procedure is much more expensive than other types of breast augmentation. Moreover, it has been banned for breast enhancement in the UK and in most European countries. We do not use this technique anymore.
Breast augmentation by fat transfert (lipofilling)
Breast augmentation by fat transfert (lipofilling) consists in taking the patient's own fat to reinject it into the breasts in order to increase the volume. It is an interesting alternative to breast augmentation by breast implant.
Breast Augmentation Cost
Save up to 80% on breast augmentation prices in the UK. Thus, you can get breast augmentation by breast implant starting at 2'492 GBP. Our price includes consultation, intervention, German-made quality implants, hospitalization, postoperative bra and pre-departure check.
| Cosmetic Surgery Prices | Prices in EUR | Prices in GBP |
| --- | --- | --- |
| Consultation | 0 | 0 |
| Breast augmentation with implants | 2800 | 2492 |
| Breast lift and augmentation with implants | 3500 | 3115 |
| Body restoration after child birth (breast correction mastopexy and implants and tummy tuck) | 5000 | 4450 |
| Rhinoplasty and breast augmentation with implants | 3800 | 3382 |
| Liposuction of body upto 4500 ml+Breast augmentation | 3800 | 3382 |
| Exchange rates for 1 EUR | 1 EUR | 1 EUR = 0.89 GBP |
Breast Augmentation in Hungary in Budapest

Private clinics accredited internationally
Breast implant and hospitalization from 2'492 GBP
English speaking assistance throughout your medical stay
More than 80% savings on UK breast implant prices
High-end brands and materials Polytech Health (Allemagne)
Low cost daily flight from UK
Internationally renowned plastic surgeon
For your breast surgery in Budapest, our plastic surgeons are accredited in Plastic Surgery by the Hungarian Society of Plastic and Reconstructive Surgery (MPHEST – Hungarian Society for Plastic, Reconstructive and Aesthetic Surgery) and the Hungarian Chamber of Physicians (MOK – Hungarian Medical Chamber).
Candidates for Breast Augmentation
The candidate for a breast augmentation is a person who wish to improve the unsatisfactory appearance of his chest. Psychological effect of breast surgery will allow to regain self-confidence and self-esteem. The ideal candidate is someone who:
wish to have a bigger chest
improve the projection of his chest
have symmetrical breasts
restore breast after breast cancer
find a bigger breast after pregnancy or dieting
be in good general health
to have finished the development of his chest (over 18 years)
have realistic expectations of intervention
not being breastfeeding
Breast Implants

There are different types of breast implants. These may contain physiological saline or cohesive gel. In addition, their envelope can be smooth or textured. Finally, their shape varies: round or anatomical.
Today, the most popular prostheses are based on cohesive gel and with a textured envelope. The shape will then vary according to the personal choice of the patient.
 Learn more about breast implants
Preparation for Breast Augmentation
The patient will have to adjust some medications.
In any case, aspirin, dietary supplements and vitamins must be stopped before the procedure. These increase the risk of bleeding.
It will also be necessary to stop smoking before the intervention.
The consumption of tobacco increases the operative complications.
The day before the operation, a medical check-up will be carried out at the clinic.
Finally, it will be necessary to present on an empty stomach, the day of the intervention.
Breast augmentation procedure with breast implant
Length of stay
In general, a 7-day stay in Hungary is required.
Anesthesia
The procedure is performed under general anesthesia.
Duration of the intervention
Breast augmentation by breast implant lasts 60 minutes.
Incisions for insertion of breast implants
There are different types of skin incisions; the type of incision for the placement of the breast implant is determined by the size of the breast and the breast tissue. There are currently three types of skin incisions.

Inframammary incision is the most common. The incision is made in the lower hollow where the breast touches the chest. This technique has several advantages. First, the breast fold will hide the scar. Second, the insertion of the implant is easier. The infra-mammary incision is used for all types of implants and is particularly effective for breast implants of large volume.
Periareolar incision is located at the area around the nipple. This technique also allows to hide the scar following breast augmentation. The direct access to the breast allows a great precision for the installation of the implants. Since the size of the skin incision is limited by the size of the halo, this method can not be used for larger breast implants.
Transaxillary incision or axillary incision is made in the armpits. This type of incision favors placement of saline breast implants. Since the incision is far from the final location of the implant, the small size of the saline implant facilitates positioning in the breast.
Hospitalization
The patient stays overnight at the clinic.
Recovery
Immediately after the breast prosthesis is placed, the breasts will be swollen.
In order to recover quickly after a breast augmentation operation, we advise you to use cold compresses on your chest the day after your surgery.
A check will take place at our clinic in Budapest, 1 week after the intervention.
A postoperative support bra should be worn during the 6 weeks following the procedure. We provide you with your throat after the operation.
It will also sleep on your back for 2 weeks.
To prevent swelling or bleeding, it is advisable not to bend, raise your arms higher than your head, lift heavy weights, and generally avoid any physical exercise that may put pressure on your chest.
After a breast augmentation, you will be presentable 2 weeks later.
You can resume your work 2 to 3 weeks after the procedure.
It will be necessary to wait 1 month before taking again physical activities.
Healing is a long process. Thus, the final condition of the scars will be judgeable 18 months after surgery.
Results of Breast Augmentation
The results are visible from the first week.
However, it will be necessary to wait for a period of 6 months to appreciate the definitive result, when the glandular and epidermic tissues adapted to the new form.
Pictures Before – After Breast Augmentation with Breast Implants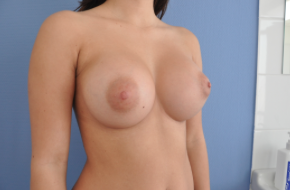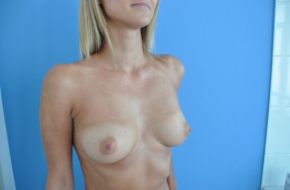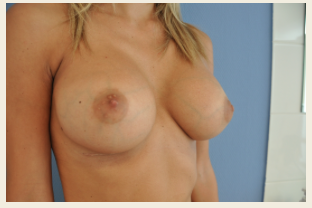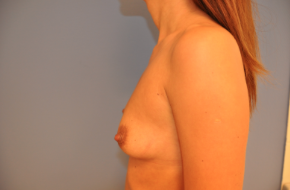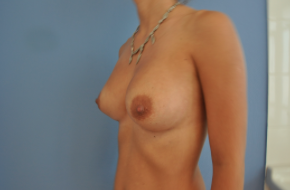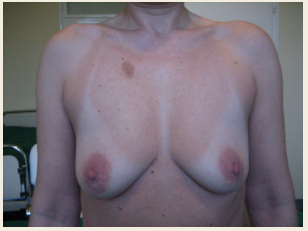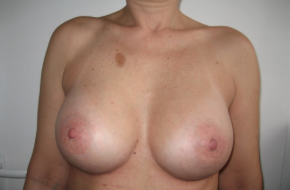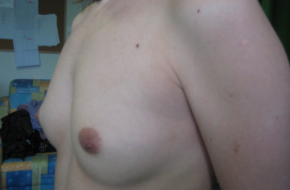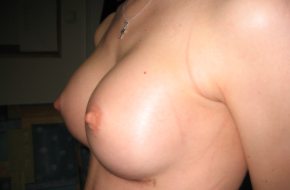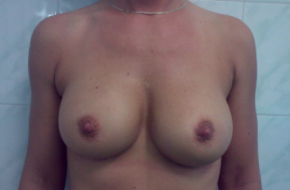 Risks and Complications of Breast Augmentation
As with any surgery, breast augmentation carries risks. When breast augmentation is performed by a recognized plastic surgeon, complications are usually rare and benign. You will reduce these risks by following closely the recommendations of your surgeon. Specific risks and precautions vary from one individual to another. Minor complications can sometimes occur, but major complications are rare.
Risks and complications are the risk of capsular contraction, wrinkles, folds or ripples of the prosthesis.
In addition, risks of infection, hematoma or loss of nipple sensation may occur.
Other risks such as displacement, rotation or rupture of the implant are possible. It should be noted that most implants today are cohesive silicone. In case of rupture, the implant keeps the same shape and the liquid will not flow out of the prosthesis.
In all cases, in case of pain, consult without delay your doctor.
Testimonial Breast Implants
The Hungarian doctor perfectly succeeded in my breast augmentation; I was jealous among my friends, many of whom also want to travel to Budapest for breast prostheses.
I am very satisfied with my medical tourism stay in Hungary. The SwissMedFlight team follows us throughout the treatment, it's really safe. And now I am proud to show my new shapes at the pool!