What is FUE for Women ?
We propose in our hair clinic a hair transplant FUE for woman (Follicular Unit Extraction or Follicular Unit Extraction), without shaving and leaving no visible scar.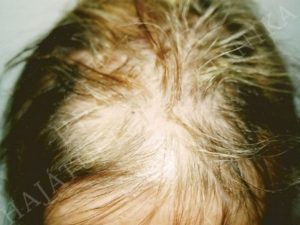 Hair transplantation in women using the FUE method consists of removing hair grafts from the preserved, occipital and parietal areas (behind and on the sides) and relocating them to the cleared areas. A graft can contain between 1 and 4 hairs.
FUE for Women without Shaving
The advantage of FUE for women is that it can be done without shaving. Thanks to the technique developed by our hair surgeon: the NLHT (No Look Hair Transplant). Thus, the donor zone is masked thanks to the length of the hair already present and the operated area is not shaved, remains intact. The patient can therefore return directly to work the day after her operation and in any discretion.
Manual FUE for Woman
We perform the FUE manually. The manual technique has many advantages over the robotic technique. It prevents grafts from breaking or splitting.
PRP treatment for Graft Conservation
We also include in our micro hair transplant for women treatment with PRP (Plaque Rich Plasma). PRP improves graft survival and the quality of regrowth of implanted hair. These will grow back thicker and faster.
Female Hair Transplant in One Trip
The FUE for women is done in one trip. You arrive the day before the operation and perform your hair transplant on 1 or 2 days. You can leave the day after your hair transplant and return directly to work on your arrival. We offer you a hotel night and transfers between the airport and your accommodation.
Hair Transplantation without Pain
Unlike FUT, which requires incisions for graft removal, FUE is performed only by micro incisions and under local anesthesia. Thus, there is no stitch to remove. The procedure is painless and non-invasive. Finally, the payback period is also shorter.