Hair transplant in Budapest, your benefits
Aside from affordable hair implant prices, performing your hair transplant in Budapest with us has the following advantages:

Manual FUE
FUE with or without shave
PRP
Medication included
1 or 2 free hotel nights
Airport – Hotel – Airport Transfers
Written guarantee on all our works
Over 20 years experience
More than 20 Years of Experience
Our hair surgeon and dermatologist has more than 20 years of experience in hair surgery and international experience: USA, Canada and Hungary. In addition, our medical team also contributes to the success of our hair transplants in Budapest.
Manual FUE
For your hair transplant in Budapest, we use the innovative FUE implantation technique. In addition, we do not use a robot, our hair transplants are done manually; we aim for quality, not quantity.
FUE with or without shaving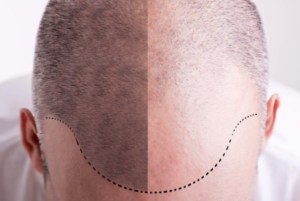 We propose FUE with or without prior shaving of the hair. Most hair clinics shave patients' hair before implantation. Indeed, this allows them a faster and easier implementation. We have the advantage of offering you a hair transplant in Budapest WITHOUT shaving hair. The great benefit of this method, is to be able to return to work quickly, without your entourage noticing it.
PRP
Our hair transplants in Budapest include a PRP (Platelet-Rich Plasma) solution. When the grafts are extracted, we keep them in a PRP solution. This method helps increase the chance of survival and regrowth of grafts, and will accelerate future hair growth.
Postoperative Medication
After your hair transplant in Budapest, we provide you with all the necessary post-operative medication. This includes: antibodies, antibiotics and a maintenance spray. In addition, they can be transported without worry in your cabin baggage during your return flight.
Free Housing
Our hair transplant offer in Budapest includes one or two nights of hotel. So, when you stay in Hungary, you will stay in a comfortable hotel close to the clinic. Among our partner hotels, we offer Belvedere or Castle Garden hotels. The accommodation includes: a breakfast, a spa and wifi. Finally, for additional nights, you get a special rate of 50 euros per night.
Airport Transfers – Hotel – Airport
We include in our hair transplant service in Hungary, transfers between the airport – your hotel – the airport.
Written Guarantee
Finally, we send you a written guarantee on your hair transplant in Budapest.